With an array of new services being added, the hospital welcomes patients in a safe environment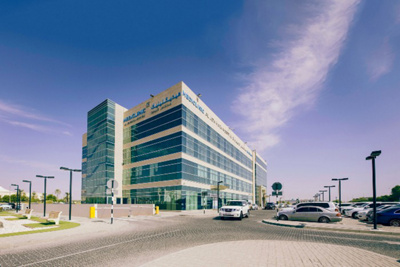 Situated in the heart of Al Jimi area in Al Ain Region, Mediclinic Al Jowhara Hospital welcomes patients, in a family-centred, safe environment. The fully equipped boutique hospital has been engineered to provide a comprehensive range of quality healthcare services in a comfortable and modern environment, complemented by its sophisticated design.

Al Jowhara does not admit or treat COVID-19 patients, and has been expanding its service offerings to carry out surgeries and deliveries under stringent safety measures; giving inpatients the peace of mind they require whilst they recuperate. Prior to admission, all patients are tested for COVID-19 including expectant mothers.
Strict safety measures have also been implemented in all of the hospital's outpatient facilities, to ensure the safety of all patients. Infection control measures include marked social distancing, sanitisation of chairs between patients, temperature checks upon arrival, wide availability of hand sanitisers, spacing of seats in waiting areas and of course disinfected consultation rooms.
Mediclinic Al Jowhara Hospital houses 43 inpatient rooms, three delivery rooms and three state-of-the-art operating theatres, one of which is dedicated to deliveries.   The Surgery Department offers a full range of complex procedures including general and oncologic surgery, head and neck surgery, orthopaedic surgery, ophthalmic surgery, otolaryngology surgery and bariatric surgery.
New services introduced at the hospital include a paediatric dentistry centre that looks after preventative and therapeutic oral health of children. In addition there is an extensive array of paediatric services available at the hospital such as paediatric neurology, ophthalmology, orthopaedics, otorhinolaryngology, gastroenterology and an advanced neonatal intensive care unit. 
ميديكلينيك مستشفى الجوهرة يقدم خدمات الرعاية الصحية العائلية, مجموعة من الخدمات الجديدة في بيئة آمنة بتدابير سلامة صارمة
تقدم ميديكلينيك مستشفى الجوهرة من قلب منطقة الجيمي في مدينة العين للمرضى خدمات طبية خاصة ومتقدمة في بيئة آمنة محورها الأسرة وسلامتها. تم تصميم المستشفى وتجهيزه بالكامل لتوفير مجموعة شاملة من خدمات الرعاية الصحية عالية الجودة في بيئة مريحة وحديثة، وبتصميم متطور
 
ميديكلينيك مستشفى الجوهرة غير مخصص لعلاج مرضى كوفيد 19، ولهذا تم توسيع عروض الخدمات الصحية المقدمة لإجراء العمليات الجراحية وعمليات الولادة ضمن إجراءات سلامة صارمة؛ مما يمنح المرضى المقيمين في المستشفى راحة البال التي يحتاجونها أثناء شفائهم. كما يتم فحص جميع المرضى باختبار كوفيد 19 قبل إقامتهم في المستشفى بما في ذلك الأمهات الحوامل
 
يتم اتباع تدابير سلامة صارمة في جميع مرافق العيادات الخارجية في المستشفى، لضمان سلامة جميع المرضى والموظفين. تتضمن إجراءات مكافحة العدوى تحديد المسافات لضمان التباعد الجسدي بين المتواجدين، وتدابير تعقيم مستمرة لأماكن الجلوس، وفحص لدرجة الحرارة لجميع المراجعين للعيادات، وتوفير معقمات اليدين في جميع الأماكن، ووضع المقاعد في مناطق الانتظار بشكل متباعد، بالإضافة إلى تعقيم غرف الاستشارة بشكل مستمر
 
تضم ميديكلينيك مستشفى الجوهرة 43 غرفة للمرضى المقيمين وثلاث غرف للولادة وثلاث غرف عمليات حديثة، وتم تخصيص واحدة منها لعمليات الولادة الجراحية. يقدم قسم الجراحة مجموعة كاملة من الإجراءات المتقدمة بما في ذلك الجراحة العامة والأورام وجراحة الرأس والعنق وجراحة العظام وجراحة العيون وجراحة الأنف والأذن والحنجرة وجراحة السمنة
 
الخدمات الجديدة المقدمة في المستشفى تشمل مركز خدمات طب الأسنان للأطفال المخصص لرعاية صحة الفم الوقائية والعلاجية للأطفال. بالإضافة إلى ذلك، هناك مجموعة واسعة من خدمات طب الأطفال المتاحة في المستشفى مثل طب الأعصاب للأطفال، وطب العيون، وجراحة العظام، وطب الأنف والأذن والحنجرة، وأمراض الجهاز الهضمي، بالإضافة إلى وحدة العناية المركزة المتقدمة لحديثي الولادة