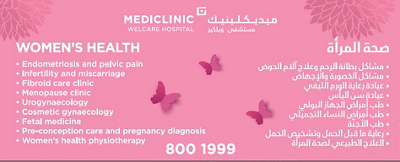 The Women's Health Unit at Mediclinic Welcare Hospital provides one stop access to highly skilled physicians in minimally invasive gynaecology, urogyanecology, aesthetic gynaecology and infertility.
Our dedicated team of minimally invasive gynecological surgeons have a proven excellence in handling complex gynaecological conditions such as fibroid, endometriosis, pelvic pain, infertility, miscarriage, menopause and urogynaecology. Our doctors also hold expertise in areas such as cosmetic gynaecology, fetal medicine, pre conception care, pregnancy prognosis and women's health physiotherapy.
At Mediclinic Welcare Hospital Women's Heath Unit, we provide high quality care for all types of gynaecological problems under one roof.