During breast cancer awareness month in October, Mediclinic Airport Road Hospital officially opened its new breast imaging unit in the presence of Dr. Omniyat Al Hajeri, Director of Public Health at the Department of Health – Abu Dhabi (DOH) and Dr. Jalaa Taher, Manager of the Non-Communicable Disease Department at DOH, Dr. Shada Al Ghazali, Section Head Cancer Prevention and Control and other attendees from DOH.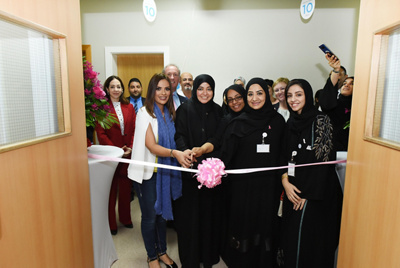 The official opening also saw the attendance of representatives from various entities in Abu Dhabi, senior radio presenter, Rania Younes, the physicians and the management of Mediclinic Airport Road Hospital.
Following the ribbon cutting ceremony, Dr. Omniyat Al Hajeri and the attendees toured the new unit where they were briefed on the various services and facilities provided to female patients. 
The unit is run by a team of female radiologists, technicians and a nurse in coordination with specialist medical team including breast surgeons, oncologists, family medicine physicians and gynecologists.
For accurate diagnosis and evaluation purposes, the breast imaging unit uses state-of-the-art facilities including digital mammography and tomosynthesis (DBT) known to increase breast cancer detection rates, high-resolution ultrasound and breast MRI.  Various image guided procedures such as biopsies, fine needle aspiration, marker placement and wire localisation can also be carried out at the unit, under local anaesthesia and with minimal discomfort.
In the event a new cancer case is detected, Mediclinic's hospitals in Abu Dhabi operate a tumour board system through which each diagnosed cancer case is discussed within a multidisciplinary team comprising oncologists, surgeons, radiologists and pathologists who collectively map out the optimal treatment plan for every patient.
Early detection is the key to successful recovery.  It is vital for every woman to undergo their routine screening in a timely manner and to speak to their physicians about their options. Mammogram is the most efficient tool for early detection, which is recommend for women from the age of 40 and above once every two years as per DOH standards.