Mediclinic at Home is a chronic disease management program developed by Mediclinic that brings together the best of virtual and physical healthcare in a seamless manner to offer you a customised treatment plan and provide you with integrated care from the comfort of your home or workplace.
Mediclinic at Home helps you to easily monitor and manage chronic conditions and empowers you to take control of your health. You will always be connected to our clinical team, who will monitor your health and provide you with support when needed to ensure better outcomes and wellbeing.
Mediclinic offers a wide range of services for your condition, both virtually and physically, based on medical necessity, which includes but is not limited to: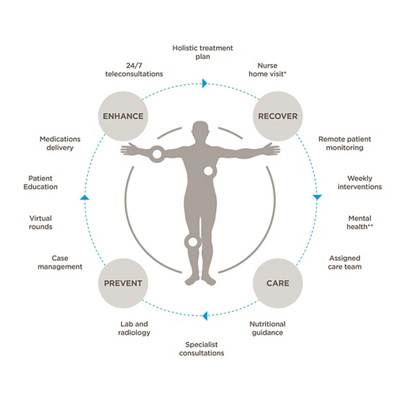 Mediclinic has worked together with Huma, to develop a dedicated to track and understand your health better. The information you provide via the app is private and secure, and is only sent to your care team, so they can better understand how you're doing.
How Mediclinic creates value to your care plan?
Mediclinic at Home creates value by building healthcare relationships between the patient and the care team through continuous engagement and timely follow ups.
Patients will have a dedicated care team committed to ensuring their needs are fulfilled. Our care team will look after patients' comfort and perform tasks such as virtual nursing rounds, teleconsultations, appointment bookings and follow-ups. The care team will ensure that patients are well trained on using the medical devices and Mediclinic Huma app to enter their vital signs and symptoms. All the patients' medications and necessary equipment are arranged by Mediclinic's care team in agreement with the patients' insurance and provided at home.
Our care team will monitor vitals and symptoms and intervene when necessary. Reminders will be set within the app to input readings and symptoms.
Mediclinic at home benefits
Early intervention: engaging promptly based on your clinical readings to prevent any complications
Convenience: receiving care from the comfort of your home or workplace
Improved and expanded access: access to healthcare services through primary care physicians and providing remote comprehensive services
Patient satisfaction: enhancing compliance to your care plan with regular follow ups
Better disease management and control: for better health outcomes and compliance
Quality care: utilising Mediclinic's experienced care team as your point of access to the healthcare system following international best practices
Self-management: empowering you to increase your self-awareness about your condition and readings' reference range to self-manage your chronic condition through a holistic approach (including diet and exercise)
Note: the program is not to be used for urgent care – please call 998 or visit your nearest emergency room should you require urgent medical attention.
*This service is available for high risk patients only
*This service availability is dependent on insurance coverage or it could be billed directly to the patient