Healthy eating can help you meet your needs for vitamins, minerals and other nutrients. Healthy eating, as part of a healthy lifestyle, can help lower your risk of getting certain chronic medical conditions such as type 2 diabetes, high blood pressure, heart disease, osteoporosis, obesity and certain types of cancers.
Well-balanced or healthy eating, along with physical activity, also plays an important role in maintaining a healthy weight. It is not about strict diets, staying unrealistically thin, or depriving yourself of the foods you love. Rather, it's about feeling great, having more energy, stabilising your mood, and keeping yourself as healthy as possible; all of which can be achieved by learning some nutrition basics and using them in a way that works for you.
HEALTHY EATING TIP 1:
MODERATION IS KEY
The goal of healthy eating is to develop a diet that you can maintain for life, not just a few weeks or months, or until you have hit your ideal weight. So try to think of moderation in terms of balance. We all need a balance of carbohydrates, protein, fat, fibre, vitamins, minerals, antioxidants and other nutrients, to sustain a healthy body.
This balance can be obtained by including all four food groups every day:
Vegetables and fruits
Grain products
Milk and alternatives
Meat and alternatives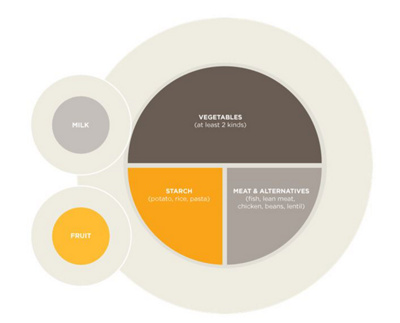 Well-balanced plate

A well balanced meal includes grains, protein and plenty of vegetables. You may also want to complete your meal with a fruit and/or dairy product.

Grains:
1-2 servings to fill ¼ of your plate
1 slice bread (35 g)
½ bagel (45 g)
½ a flat-bread pita or tortilla (35 g)
125 ml (½ cup) cooked rice, bulgur or quinoa
125 ml (½ cup) cooked pasta or couscous
30g cold cereal
175 ml (¾ cup) hot cereal
Vegetables and fruit: Vegetables:
At least 2 servings to fill ½ of your plate
125ml (½ cup) fresh, frozen or canned vegetables
125ml (½ cup) cooked leafy vegetables
250ml (1 cup) raw leafy vegetables
Fruit:
1 serving
1 fruit or 125ml (½ cup) fresh, frozen or canned fruits
125ml (½ cup) 100% juice
 
Meat and alternatives:

1 serving to fill ¼ of your plate
75g (2½ oz.)/ 125ml (½ cup) cooked fish, shellfish, poultry or lean meat
175 ml (¾ cup) cooked legumes
150g / 175ml (¾ cup) tofu
2 eggs
30ml (2 tbsp) peanut or nut butters
60ml (¼ cup) shelled nuts and seeds
Milk and alternatives:
1 serving
250ml (1 cup) milk or powdered milk (reconstituted)
125ml (½ cup) canned milk (evaporated)
250ml (1 cup) fortified soy beverage
175g (¾ cup) yogurt
175g (¾ cup) kefir
50g (1½ oz. cheese)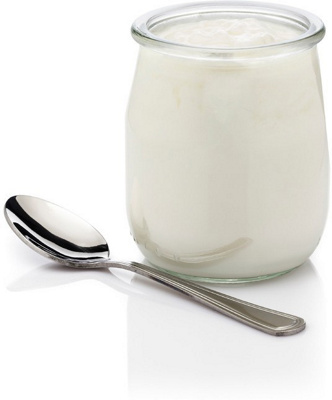 HEALTHY EATING TIP 2:
IT IS NOT JUST WHAT YOU EAT, BUT HOW YOU EAT
Eat with others whenever possible. Eating with other people has numerous social and emotional benefits, especially for children, and allows you to model healthy eating habits. Eating in front of the TV or computer often leads to mindless overeating
Take time to chew your food and enjoy mealtimes. Chew your food slowly, enjoying every bite. It takes about
20 minutes for our brain to get the message that our stomach is full, so take a few one-minute breaks from eating during meals and put your fork down between bites
Listen to your body. Ask yourself if you are really hungry, or have a glass of water to see if you are thirsty instead of hungry. During a meal, stop eating before you feel full
Eat breakfast, and eat smaller meals throughout the day. A healthy breakfast can jumpstart your metabolism, and eating small, healthy meals throughout the day (rather than the standard three large meals) keeps your energy up and your metabolism going

HEALTHY EATING TIP 3:
FILL UP ON COLOURFUL FRUITS AND VEGETABLES
Fruits and vegetables are low in calories and packed with vitamins, minerals, antioxidants, and fibre
 
Colourful, deeply coloured fruits and vegetables contain higher concentrations of vitamins, minerals, and antioxidants. Different colours provide different benefits, so aim to eat a variety every day
Eat at least one dark green and one orange vegetable each day
Go for dark green vegetables such as broccoli, romaine lettuce and spinach
Go for orange vegetables such as carrots, sweet potatoes and winter squash
Choose vegetables and fruits prepared with little or no added fat, sugar or salt
Have vegetables and fruits more often than juice

HEALTHY EATING TIP 4:
EAT MORE SOURCES OF FIBRE AND WHOLE GRAINS
Sources of fibre include whole grains, beans, fruits, and vegetables. These are digested slowly, helping you feel full longer and keeping blood sugar and insulin levels stable
Unhealthy carbs are foods such as white flour, refined sugar, and white rice that have been stripped of all the bran and fibre. Unhealthy carbs digest quickly and cause spikes in blood sugar levels and energy
Include a variety of whole grains in your healthy diet, including whole grain breads and cereals, whole wheat
 
pasta, brown rice, couscous, burghul, quinoa, and barley. Experiment with different grains to find your favourites
Make sure you're really getting whole grains. Be aware that the words
stone-ground, multi-grain, 100% wheat or bran can be deceptive. Look for
the words "whole grain" or "100% whole wheat" at the beginning of the ingredient list, or ask your baker about the type and amounts of different flours used
Try mixing grains as a first step to switching to whole grains. If whole grains like brown rice and whole wheat pasta don't sound good at first, start by mixing what you normally use with the whole grains. You can gradually increase the whole grain to 100%

HEALTHY EATING TIP 5:
ENJOY HEALTHY FATS AND AVOID UNHEALTHY FATS
Good sources of healthy fat are needed to nourish your brain, heart, and cells, as well as your hair, skin, and nails. Foods rich in certain omega-3 fats called EPA and DHA are particularly important and can reduce the risk of cardiovascular disease.
Add to your healthy diet:
Monounsaturated fats, from plant oils like canola oil, peanut oil, and olive oil, as well as avocados and nuts (like almonds, hazelnuts and pecans etc.), and seeds (such as pumpkin, sesame etc.)
Polyunsaturated fats, including Omega-3 and Omega-6 fatty
 
acids, found in fatty fish such as salmon, tuna, herring, mackerel, anchovies, sardines. Plant sources of polyunsaturated fatty acids include unheated sunflower, soybean and flaxseed oils, and walnuts etc.
Reduce from your diet:
Saturated fats, found primarily in animal sources including red meat and full fat milk and other dairy products should be reduced. Select lower fat dairy products instead
Eliminate from your diet:
Trans fats, found in vegetable shortenings, some margarines, crackers, candies, cookies, fried foods, baked goods, and other processed foods made with partially
hydrogenated vegetable oils should be avoided
HEALTHY EATING TIP 6: INCLUDE A VARIETY OF PROTEIN SOURCES
When broken down, protein provides the body's basic building blocks for growth and energy, essential for maintaining cells, tissues, and organs.
The amount of protein you need depends on one's age, sex, and level of physical activity.
Try different types of protein to come up with new options at mealtimes. Those include different types of beans, tofu, unsalted nuts, natural nut butters, seeds and soy products
Eat at least two servings of fish per week
Choose lean cuts of meat and chicken
Choose unsalted nuts as a snack, on salads, or in main dishes. Use nuts to replace meat or poultry, not in addition to these items
HEALTHY EATING TIP 7:
LIMIT SUGAR AND SALT
Sugar
Excessive intake of sugar can add to health and weight problems. Large amounts of added sugar can be hidden in foods such as bread, canned soups and vegetables, pasta sauce, frozen dinners, fast food, soy sauce, and ketchup
Avoid sugary drinks. One serving of regular soda can have about
8-10 teaspoons of sugar in it. Try sparkling water with lemon or a splash of fruit juice, or regular water with added lemon and mint leaves
Sweeten foods yourself. Buy plain yogurt, or unflavoured oatmeal, for example, and add sweetener (or fruit) yourself
Eat naturally sweet food such as fruit, dried fruit, or natural peanut or almond butter to satisfy your sweet tooth. Keep these foods handy instead of candy or cookies
 
Salt
Most of us consume too much salt in our diets. Eating too much salt can cause high blood pressure and lead to other health problems. Try to
limit sodium intake to 1,500 to 2,300 mg per day, the equivalent of one teaspoon of salt
Avoid processed or pre-packaged foods. Processed foods like canned soups or frozen dinners contain hidden sodium that contains more than the recommended limit
Be careful when eating out. Most restaurant and fast food meals are loaded with sodium. Some offer lower-sodium choices or you can ask for your meal to be made
without salt. Most gravy, sauces and dressings are loaded with salt, so ask for it to be served on the side
Choose fresh or frozen vegetables instead of canned vegetables
Cut back on salty snacks such as potato chips and salted nuts
Check labels and choose low-salt or reduced-sodium products, including breakfast cereals
Slowly reduce the salt in your diet to give your taste buds time to adjust