Patient-Centered With a Teamwork Approach, We are 100% patient focused and understand the importance of providing personalised service in a patient-friendly atmosphere. It all starts with listening to and understanding your needs, concerns, fears and goals. The answers set the course for all of our interactions, from the very first evaluation appointment through to ongoing follow-ups.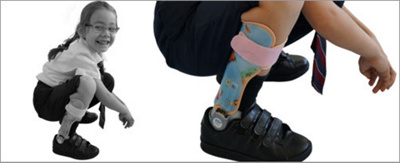 On-Site Manufacturing and Large Central Fabrication Capabilities and Partnerships
Mediclinic maintains a fully equipped on-site laboratory, where we manufacture and adjust custom prosthetics and orthotics. Our in-house lab gives us complete control over the manufacturing process to produce only the highest quality custom products. In addition we have one of the largest central fabrication partnership networks in the business. Mediclinic is able to leverage its international operations to provide custom orthotic prosthetic services unavailable to many providers.
Technology

Mediclinic utilises the best and latest technology in the industry to bring you the right solution for your needs. Our in-house capabilities, combined with our international supplier relationships, allow us to offer a wide range of both ready-to-wear products and custom devices that incorporate today's most sophisticated components. We employ computer-aided design and manufacturing, which offers the most sophisticated measuring tools and resources for optimising the customisation. We also employ accurate laser technology to ensure proper alignment and biomechanical designs of our products.
Financially Responsible
Mediclinic understand that financial decisions are a part of healthcare. Our fiscal responsibility extends to our patients. Patient outcomes and improvements outway profit margins. Quality is never sacrificed. We for example offer an industry leading outgrowth policy available with paediatric programs. This renewable policy allows for the purchase of additional orthotics/prosthetics as children grow at significantly reduced prices.
Accreditation
Our facilities and patient care modules are internationally accredited. Patient's assessment, care and documentation processes abide by JCIA specifications and scrutiny. Our clinical team is registered and licensed with international and UAE healthcare authorities.
Inpatient Rehabilitation
When considering the rehabilitation of first time amputees, stroke patients and other trauma-related conditions, our orthotic and prosthetic service at times needs to be integrated in an active rehabilitation programme. Patients admitted into the leading inpatient rehabilitation programmes at Mediclinic City Hospital benefit from the strategic collaboration with the Mediclinic Orthotic Prosthetic Service. Mediclinic City Hospital aims to deliver science-based treatment in a warm and friendly environment. All rooms are designed to offer comfort as well as practicality. There is also a private VIP floor with its own separate entrance featuring deluxe and presidential suites and one royal suite. There are hotels in close proximity to the hospital. We enjoy excellent relationships with these establishments and reduced tariffs can be arranged for family members or care givers that wish to stay for all or part of the rehabilitation process.
Commitment
The Mediclinic Orthotics and Prosthetics Service are committed to providing the best possible patient care by remaining at the forefront of orthopaedic bracing and artificial limb technology. It is the goal of the department to provide the optimum fit, function and appearance of all of the finished products manufactured at the facility. The focus of care remains on a "client-orientated" approach to deliver long-term care and satisfaction. We welcome the opportunity to work with patients, healthcare providers and third party payers to ensure the provision of the highest quality orthotic and prosthetic care to amputees, individuals with disabilities and those recovering from injuries.
For a professional consultation please contact Mediclinic Orthotic Services on 04 555 9122 / 056 226 7104 or email mcme.oandp@mediclinic.ae.