Compression therapy is beneficial for reducing oedema and varicose veins. It involves wearing a compression garment, usually throughout the day. These garments or compression socks are mostly often used for legs, but can be used across the body as required. Most importantly, correct compression garment provision can greatly improve patient comfort levels, quality of life and prevent progression of secondary conditions. Mediclinic Orthotic department provides expert advice, selection and supply of compressions garments.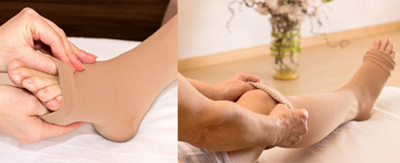 We are the Middle East representative for Juza, enabling the supply of the highest quality off the shelf garments for both upper and lower limb issues. In the event these are not indicated, our orthotist is able to provide compression bandage techniques as part of an MLD program. We work closely with Mediclinic City Hospital Physiotherapy department to provide comprehensive manual lymphatic programs and therapy to patients with gross oedema.
Our orthotists are able to provide custom compression garments for lower and upper limb pathologies when required. As the Juza representative, we can guarantee excellent turnaround and delivery times.
Patient groups who benefit most from high quality compression garments include:
Pregnant women with oedema
Post-orthopaedic surgical cases
Primary and secondary lymphedema
Scar management and following cosmetic surgery
Post-burn rehabilitation
Cyclic and idiopathic oedema
Chronic venous insufficiency
Post-thrombotic syndrome
Primary and secondary varicose veins
Thrombophlebitis, deep vein thrombosis
Post vein stripping or sclerotherapy
Angiodysplasia
Bed ridden, immobilised and post surgical management
Active sports compression socks for high performance athletes
Compression garments are not recommended in the following areas:
Advanced peripheral arterial disease
Congestive heart failure
Septic phlebitis (vein inflammation by microorganisms)
Phlegmasiaceruleadolens
Furthermore, patients presenting weeping dermatoses, sensory disturbances, advanced peripheral neuropathy and rheumatoid arthritis need to be treated with great care. It is vital that in the event any of the at-risk areas are suspected, these patients are referred to a vascular surgeon for a specialised evaluation.
For a professional consultation please contact Mediclinic Orthotic Services on 04 555 9122 / 056 226 7104 or email mcme.oandp@mediclinic.ae.