Mediclinic City Hospitals is a state-of-the-art healthcare facility, and dominates the UAE's healthcare landscape in terms of the quality of its medical staff, the breadth of services it offers and the standard of equipment it operates. Patients admitted into our inpatient rehabilitation programmes benefit from strategic collaboration with the Mediclinic Orthotic Prosthetic Services.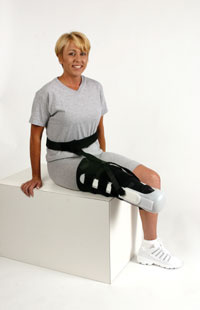 As a comprehensive rehabilitation facility, we offer a full range of treatment services. Our goal is to provide individuals and their families many options from which to choose the most appropriate programme of care based on each person's medical status, physical endurance, lifestyle, and social and vocational needs. Individually tailored programmes can begin anywhere in our continuum of care - inpatient, outpatient or community re-entry services.
The scope of our services includes:
Initial inpatient stay after amputation or injury
Inpatient stay for orthotic prosthetic fitting or training
Outpatient orthotic prosthetic clinic for prosthetic orthotic fitting
Follow-up outpatient care and support group
Admission to Mediclinic City Hospital inpatient rehabilitation programme
Admission to the inpatient rehabilitation programme can be made directly from the acute care hospital after an evaluation by the clinical liaison and doctor to identify if an acute care stay is appropriate. The initial inpatient stay will vary according to the presented condition.
During the initial inpatient stay, we provide a comprehensive team approach with physiotherapy, occupational therapy, nursing, orthotics, prosthetics and governed by the treating specialist. If applicable, diabetic education is provided.
Individuals work on functioning independently with injury or limb loss including walking, stair climbing, transfers, bed mobility, wheelchair use, bathroom/shower use, family training, skin management and maintaining health and functionality. When indicated early orthotic/prosthetic fitting is always promoted. The Mediclinic Prosthetic Service will ensure this is done competently, utilizing the most appropriate components to minimize rehabilitation times and maximize functionality.
Goals of treatment: initial inpatient rehabilitation stay
Perform basic activities of daily living with supervision/modified independence, including functional transfers, mobility and energy conservation
Determine level of mobility at discharge -- wheelchair vs. ambulatory and if temporary orthotic/prosthetic indicated
Maintain range of motion at hip and/or knee of amputated limb
Prevent contractures at hip/knee
Teach proper positioning in wheelchair
Achieve independence with home exercise programme
Achieve independence with skin management and desensitisation techniques
Train family how best to assist patient to continue therapy at home
Oedema control may be initiated. Mediclinic's Physiotherapy Department collaborates with the Prosthetic Service to provide more advanced manual lymphatic drainage techniques to ensure optimal lymphatic improvement and oedema reduction is achieved.
For more information on our services or to book an appointment, please email mcme.oandp@mediclinic.ae.