Mediclinic is one of the 10 largest listed private hospital groups in the world with 52 Hospitals in Southern Africa, 14 in Switzerland and 11 in the UAE. UAE facilities include leading hospitals Mediclinic Welcare Hospital and Mediclinic City Hospital as well as nine clinics in Dubai and Abu Dhabi. The company's vision is to enhance the quality of life of their patients and clients by providing high quality, cost efficient, multi-disciplinary medical services. Provision of comprehensive orthotic prosthetic treatment and related services are part of our commitment to these goals.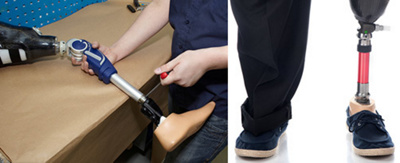 Our Resources
Mediclinic operates some of the leading rehabilitation facilities in the region and internationally. This means Mediclinic Orthotic Prosthetic Services is not a standalone operation, but part of one of the largest healthcare groups in the world. This level of expertise and availability of resources is a huge advantage for our patients.
We have built our success on the foundation of a proven patient management platform. Being part of the Mediclinic group means this service has access to a vast network of resources and support staff. This allows attention to detail and commitment to outstanding service from a large well-trained administrative staff that includes receptionists, clinical coordinators, a large insurance team and an extensive procurement department. Clinical care is provided by the most experienced orthotist prosthetists in the region. All clinical orthotist prosthetists are DHCC and DHA licensed. The skills and technical knowledge of our technicians are of the highest caliber.

For a professional consultation please contact Mediclinic Orthotic Services on 04 555 9122 / 056 226 7104 or email mcme.oandp@mediclinic.ae.