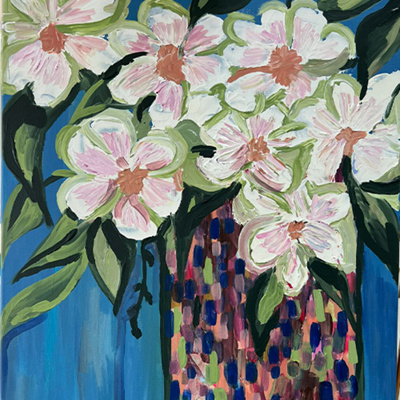 Flowers Valse
(Ref: PAINT005)
Dimensions: 50 cm x 70 cm
Price: 1600 AED
Artist: Mohamad Hmaidan
Disability: Down Syndrom
Mohammed skillfully immortalized cherished memories of the vase that perpetually housed exquisite flowers in his grandparents' home on canvas. To breathe life into his artwork, he expertly blended acrylic and oil-based paints. Employing a fat top knife technique, he added a vibrant pop of color to the vase, simultaneously infusing a tactile sense of texture. The result is a captivating depiction that evokes the beauty and nostalgia of those cherished floral arrangements.
How to purchase the painting
Contact Mahmoud via Mahmoud.Abdul@mediclinic.ae to submit your request for the purchase of the painting with the reference number and the painting's name.
A payment link will be sent which needs to be processed within 3 hours of the receipt. If the painting has a red dot, it means that it has been sold.