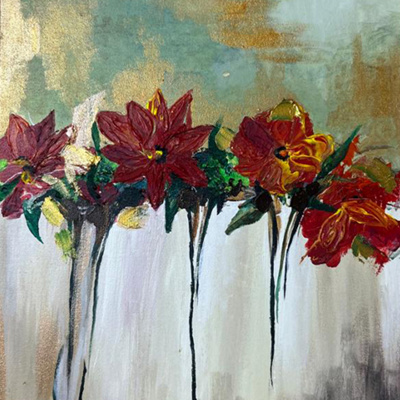 Poppy Flowers
(Ref: PAINT006)
Dimensions: 30 cm x 55 cm
Price: 1500 AED
Artist: Mohamad Hmaidan
Disability: Down Syndrom
In his artistic endeavors, Mohammed employs an intriguing technique known as tissue bunching, which imparts a unique and textured quality to his paintings. This technique involves manipulating tissue paper and using it as a tool to add depth and visual interest to his artwork. Through this process, Mohammed breathes life into his creations, adding layers of texture that invite viewers to explore the intricate details within his paintings. When it comes to color, Mohammed's favorite hue is red. With its vibrant and commanding nature, he skillfully incorporates this striking color into his artwork, creating visually captivating and dramatic compositions.
How to purchase the painting
Contact Mahmoud via Mahmoud.Abdul@mediclinic.ae to submit your request for the purchase of the painting with the reference number and the painting's name.
A payment link will be sent which needs to be processed within 3 hours of the receipt. If the painting has a red dot, it means that it has been sold.