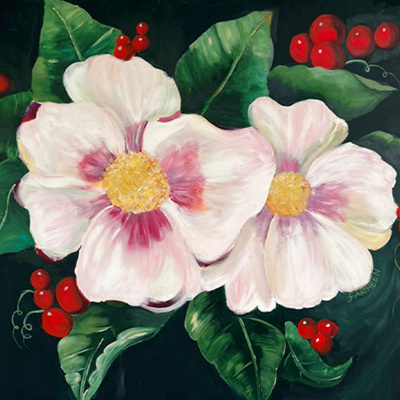 THE FLOWERS DUO
(Ref: PAINT001)
Dimensions: 120 cm x 100 cm

Price: 2500 AED
Artist: Farheen Abid
Disability: Hearing impairment
Farheen Abid, a student in the academic section of DCSN, skillfully crafted this exquisite floral artwork. With a deep passion for art, particularly using acrylic paint, Farheen showcases remarkable attention to detail in shading and a harmonious blend of colours. Her love for painting flowers stems from their ability to embody beauty and vibrant hues.
How to purchase the painting
Contact Mahmoud via Mahmoud.Abdul@mediclinic.ae to submit your request for the purchase of the painting with the reference number and the painting's name.
A payment link will be sent which needs to be processed within 3 hours of the receipt. If the painting has a red dot, it means that it has been sold.