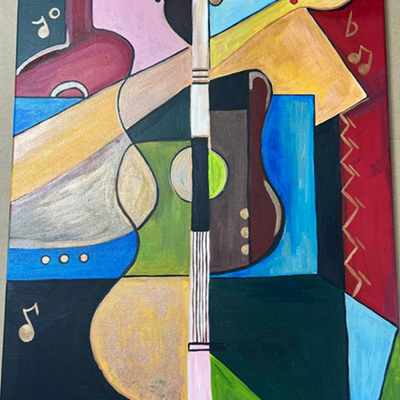 Rhythm of Life
(Ref: PAINT009)
Dimensions: 40 cm x 55 cm
Price: 1800 AED
Artist: Mahra Jabran
Disability: Achondroplasia
Mahra's artistic talent shines through her remarkable use of bold colors and striking patterns. Her deep passion for music is evident in her avant-garde painting style, particularly when she portrays guitars. During her art sessions, Mahra indulges in various techniques, and her execution of these techniques is superb. One noteworthy aspect of her work is her exceptional ability to achieve a harmonious balance between bright and dark colors, resulting in visually captivating compositions. The way Mahra skillfully combines colors adds depth and richness to her artwork, further enhancing the overall impact. Her artistic prowess and innate sense of balance allow her to create captivating pieces that leave a lasting impression on the viewer.
How to purchase the painting
Contact Mahmoud via Mahmoud.Abdul@mediclinic.ae to submit your request for the purchase of the painting with the reference number and the painting's name.
A payment link will be sent which needs to be processed within 3 hours of the receipt. If the painting has a red dot, it means that it has been sold.