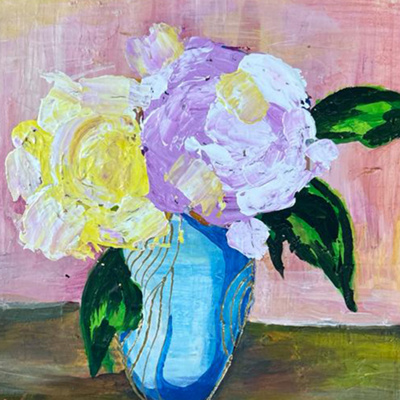 Peony Harmony
(Ref: PAINT013)
Dimensions: 30 cm x 30 cm
Price: 850 AED
Artist: Saoud Al Matrooshi
Disability: Developmental Delay
Inspired by a visit to Miracle Garden, Saud transforms his love for peonies into a remarkable canvas masterpiece. Using magazines as a base and a flat knife as his tool, he creates an intriguing texture and a captivating 3D effect. Saud's meticulous work in adding shades further enhances the depth and realism of the painting. Through his keen observation and artistic dedication, he successfully captures the essence of the flowers, creating a stunning artwork that vividly brings the vibrant beauty of peonies to life.
How to purchase the painting
Contact Mahmoud via Mahmoud.Abdul@mediclinic.ae to submit your request for the purchase of the painting with the reference number and the painting's name.
A payment link will be sent which needs to be processed within 3 hours of the receipt. If the painting has a red dot, it means that it has been sold.