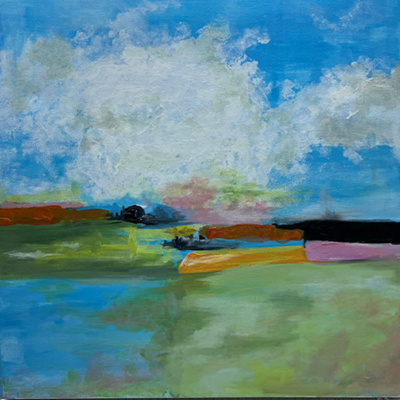 Peaceful Thoughts
(Ref: PAINT008)
Dimensions: 50 cm x 50 cm
Price: 1800 AED
Artist: Amal Al Mehairi
Disability: Down Syndrom
Amal, a passionate nature enthusiast and traveler, skillfully creates picturesque countryside scenes inspired by her trip to Turkey. Using a combination of acrylic and oil paints, she captures the beauty of landscapes, particularly the serene blue skies adorned with fluffy white clouds. Amal incorporates techniques like tissue art and a flat knife to add depth, texture, and perspective to her artwork. Through her paintings, she evokes nostalgic memories and shares her profound appreciation for nature's beauty, inviting viewers to immerse themselves in the tranquil scenes she creates.
How to purchase the painting
Contact Mahmoud via Mahmoud.Abdul@mediclinic.ae to submit your request for the purchase of the painting with the reference number and the painting's name.
A payment link will be sent which needs to be processed within 3 hours of the receipt. If the painting has a red dot, it means that it has been sold.