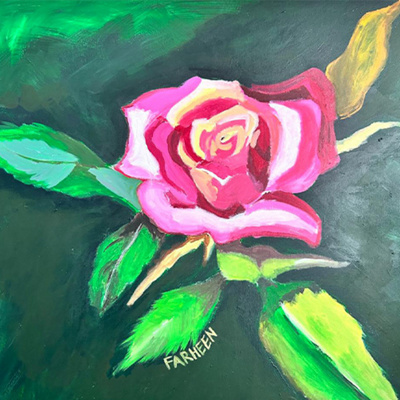 The Solo Flower
(Ref: PAINT004)
Dimensions: 80 cm x 80 cm
Price: 1500 AED
Artist: Farheen Abid
Disability: Hearing impairment
Farheen Abid, a student in DCSN's academic section and a passionate artist, has skillfully crafted this floral artwork. Despite being hearing-impaired, Farheen's artistic talent shines through her work. Through her use of vibrant colours against a dark background, she skillfully creates a sense of depth and perspective in the painting. Farheen's artistic affinity lies in creating captivating floral backdrops, with the rose being her favourite flower. Her attention to detail and love for the subject matter are evident in the way she brings the beauty and allure of roses to life on the canvas.
How to purchase the painting
Contact Mahmoud via Mahmoud.Abdul@mediclinic.ae to submit your request for the purchase of the painting with the reference number and the painting's name.
A payment link will be sent which needs to be processed within 3 hours of the receipt. If the painting has a red dot, it means that it has been sold.