A refreshing green smoothie
Ingredients:
50g spinach
500ml water
50g romaine lettuce
60ml lemon juice
50g mint
50g cucumber
Method:
Wash all the ingredients and blend together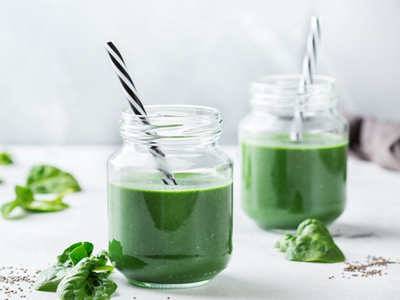 A delicious quinoa and berries salad (serves 6)
Ingredients
300g quinoa
240g strawberries
240g blackberries
2 ½ tbsp honey
2 1/2 tbsp lemon juice
120g almond flakes
10g mint
Method:
Place water and quinoa in a medium saucepan and bring to a boil, stirring occasionally. Reduce heat to low, cover and simmer 18 to 20 minutes or until most water has been absorbed.
Remove from heat and let stand covered for 5 minutes.
Meanwhile, hull strawberries and chop.
In a small bowl whisk together honey and lemon juice until blended.
Stir honey mixture into quinoa. Fold in strawberries, blueberries, almonds and chopped mint until evenly blended.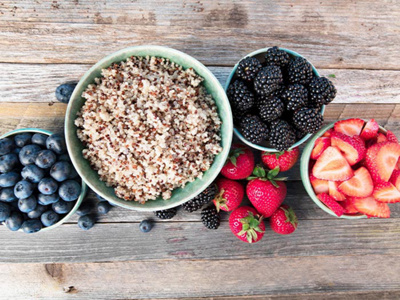 Salmon salad & papaya salsa (serves 4)
Ingredients
1 papaya, peeled and chopped into 1cm cubes
1 small red onion, diced
½ green capsicum, de-seeded & diced
½ red capsicum, de-seeded & diced
1 red chilli, finely chopped
2 tbsp coriander, roughly chopped
Juice of 1 lime & lime wedges for serving
4 nests wholewheat noodles
4 salmon fillets
1 tbsp vegetable oil
2 tbsp teriyaki sauce
Mixed salad leaves
Method
To make the salsa, combine the papaya, onion, green and red peppers, chilli, coriander and lime juice in a bowl. Season and set aside.
Prepare the noodles following pack instructions. Meanwhile, brush both sides of the salmon fillets with oil, then season. Heat a griddle or frying pan to medium-hot and cook the salmon for 3-4 mins on each side, then remove from the pan. Alternatively, cook the fillets on a barbecue, and pop the lime wedges next to them, flesh-side down, for 2-3 mins. Drain the noodles and toss with the teriyaki sauce.
Pile the salad leaves and noodles onto plates. Top with the salmon, spoon over the salsa and serve with a lime wedge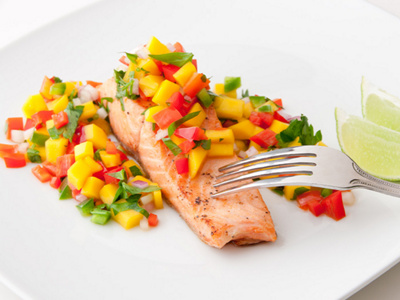 Skinny honey & lemon chicken (serves 4)
Ingredients:
680g skinless chicken breast cut into bite size pieces
1 tbsp olive oil
2 tbsp chopped spring onions
1 tbsp sesame seeds
For the sauce:
¾ cup homemade chicken stock
¼ cup lemon juice
3 tbsp honey
2 tbsp corn flour
Zest 1 lemon
Pinch of ground ginger
Method:
Whisk the honey lemon sauce ingredients together until combined in a bowl
Heat oil in a large pan over medium-high heat. Season the chicken and sauté for 5-7 minutes or until it is golden brown and cooked through. Transfer the chicken to a separate (clean) plate with a slotted spoon.
Pour the honey lemon sauce into an empty pan.  Cook over medium-high heat for 2-3 minutes, or until the sauce simmers and thickens.  
Add the chicken back into the pan and toss until it is evenly coated with the sauce  
Serve garnished with sesame seeds, spring onions and your favourite wild rice or barley